Hire SF Video Production Company to Shoot Videos
IT STARTS! Media is a great choice for professional video due to our extensive experience and expertise in the video production industry. We have been serving the San Francisco Bay Area and beyond for nearly three decades, and our broadcast studios are ideal for any PR and marketing agency who needs media tour services.
Additionally, IT STARTS! Media's soundstage is suitable for large-scale productions. With our numerous capabilities, IT STARTS! Media can provide a variety of services for shooting video content, including smaller-scale productions. Furthermore, we are able to provide additional help with any video production challenges that may arise during the creative process.
San Francisco Video Production Company
Professional video production services like IT STARTS! Media can provide many benefits to businesses. Professional companies have the knowledge and resources to produce high-quality corporate videos that reflect your brand and objectives. Additionally, we offer referral benefits for employees and a range of pricing options to fit any budget. By taking advantage of the services offered by an experienced video company, businesses can create memorable visuals that are sure to engage their audiences.
Video Production Agency
Hiring a video production company can be beneficial for companies looking to create engaging and compelling content that connects with their target audience. A video production company specializes in providing big agency talent without the high costs, along with a strong understanding of web design that can help companies build effective sites. Our San Francisco Bay Area video company is capable of helping businesses reach their video marketing goals and tell their story through videos, an ideal solution for businesses looking to make an impact with their marketing efforts through creative thinking.
Video Marketing
If you're looking for a high-quality video production services in the San Francisco Bay Area, look no further than IT STARTS! Media. We specialize in producing engaging, creative videos that tell a story and capture the attention of your audience. We've worked with a variety of clients, from small businesses to large corporations, and we're confident that we can create a video that meets your specific video needs, providing an effective way for companies to reach their target audience in an efficient and interactive manner.
By creating videos that are easily sharable, businesses can communicate with their customers and promote their brands and products. Video is also a great way to create corporate communications and capture live events as well as branded content.
Creative Video Production Services
IT STARTS! Media is a professional video production company in the San Francisco Bay Area that specializes in providing high-quality video services. Services include digital advertising, social media campaigns, and marketing services. Our company has a proven track record of delivering results with an understanding of what constitutes a good return on investment for our clients. IT STARTS! Media has worked with notable organizations such as the Aspen Institute, TedX, Vox Media, and Cardinal Health so you know our team is professional.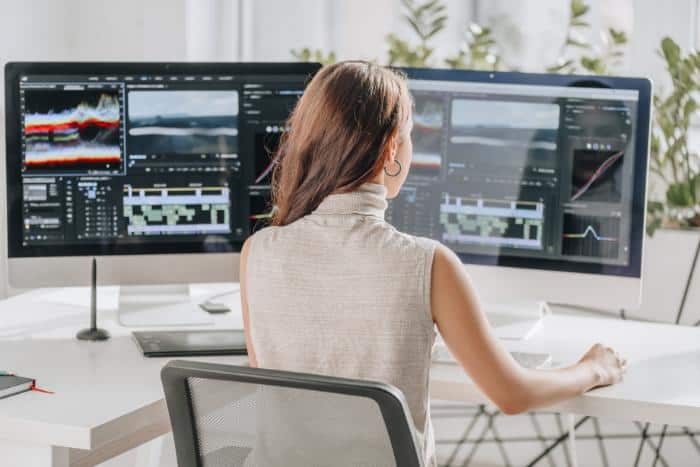 Product Videos
If you're looking to produce high-quality product videos, there's no better place to turn than our professional video service in the San Francisco Bay Area. We will be able to bring your product videos to life in a way that you never thought possible.
When it comes to product videos, there are a variety of reasons one might want to hire a video production company. These can range from creating training videos, product videos, brand videos, and more. By hiring a video company with experience and expertise in crafting effective visuals and narratives, you can ensure your video project will be executed with quality results.
Pre-production
If you're looking to hire a video production company in the San Francisco Bay Area, make sure to consider IT STARTS! Media. We specialize in pre-production video services and can help you ensure your video production process is a success from start to finish.
Our team of experienced professionals will work with you to develop a creative concept, storyboard, and treatment that meets your specific goals and objectives. The Pre-production for a video shoot requires several steps that can last anywhere from a few days to a few weeks. Some of these steps include researching and writing the script, creating storyboards, scouting locations, and hiring actors or models. For commercial a video, it is recommended to plan for at least one month of pre-production before beginning the actual video shoot. After all the pre-production steps are complete, then the IT STARTS! Media team can start shooting video.
Why Choose Us For Brand Videos?
IT STARTS! Media is an excellent choice for marketing videos due to our extensive experience in commercial video production. We have a team of experienced and creative professionals who are well-versed in video production techniques as well as creative storytelling. Our high-quality videos reflect the brand's vision and mission, making it an attractive choice for a marketing team looking to create memorable, effective promotional video. As a video company located in the San Francisco Bay Area, IT STARTS! Media prides itself on providing fast turnaround times and flexible delivery options that make it easy for brands to keep up with the latest trends in digital media.
Post-production
If you're looking for a top-notch video company in the San Francisco Bay area, IT STARTS! Media is a no-brainer. We specialize in producing high-quality videos for a variety of purposes, including corporate branding, marketing campaigns, and more. Our post-production services are second to none. We can take your raw footage and turn it into a polished, professional message. Post-production is an important component of video production, as it involves editing, color correction, and sound editing to enhance the overall quality and look of the final video. By making use of post-production techniques, filmmakers can create a fantastic product that their viewers will enjoy.
How Much Does It Cost To Make A Video?
The cost of hiring our video production company for video production services will depend on the specific needs of the project. Non-profit organizations may qualify for discounts. It is best to first call our video production company directly to discuss pricing and any potential discounts that may be available in the near future.
Let's Work Together
Clients should hire IT STARTS! Media because we offer a full-service event production service which can help to inspire and engage audiences. The team at IT STARTS! Media is committed to ensuring the success of our clients' projects, and we are dedicated to providing quality results.
FREQUENTLY ASKED QUESTIONS
Join our mailing list today
Stay up to date on video marketing trends & more!