San Francisco Corporate Video Production Pros
Beneath the iconic silhouette of the Golden Gate, amidst the rolling fog and the electric pulse of innovation, San Francisco stands as a beacon for the video production connoisseur. It's here, in the heart of tech's grandest playground, that IT STARTS! media embarks on a quest to spotlight the 5 best video production companies that the Bay Area has to offer.
In this city of boundless creativity, where the Pacific's waves crash against a coastline dotted with startups and stalwarts alike, these maestros of the medium blend the art of storytelling with the precision of technology. San Francisco is not just a canvas; it's a dynamic gallery where the corporate video production genre transforms into a riveting art form. Here, explainer videos become gateways to innovation, brand anthems resonate with the spirit of pioneers, and training modules transcend into narratives that engage and enlighten.
As we weave through the streets that have witnessed a thousand pitches and launched a million ideas, IT STARTS! media is on a mission to unravel the golden threads of production companies that excel in crafting corporate documentaries, promotional films, and live event coverage that echo with the ethos of the city. They are the ones who capture the essence of brand narratives and the visionary minds behind commercials that do more than advertise—they captivate.
If your search history is full of requests "video production company near me", and you are still hesitating, then congratulations – you are in the right place. Join us as we delve into the vibrant video production scene of San Francisco, where the stories told are as diverse as the city itself. From the sleek skyscrapers housing the tech giants to the historic alleys humming with the whispers of the Gold Rush, we'll introduce you to the video virtuosos who are framing the future of corporate communication, one frame at a time. Let's raise the clapperboard and unveil the maestros turning business visions into visual voyages in the cinematic city by the bay.
Nestled in the heart of innovation, The Cowan Agency emerges as a beacon of creativity within San Francisco's bustling cityscape. This boutique powerhouse transforms the ordinary into the extraordinary, offering a trifecta of video wizardry, cutting-edge AI software concoctions, and a treasure trove of top-tier camera gear that won't break the bank. Crowned the video virtuoso of the Bay Area, this agency isn't just in the business of scaling startups; it's catapulting them to starry heights, as evidenced by the meteoric rise of DeepCura Inc.
Imagine a world where your words morph into cinematic masterpieces—enter VidTok AI®, the Cowan Agency's brainchild, a magical text-to-video artisan that crafts digital narratives starting at a modest $99 USD monthly.
But that's not all. Peerspace—an expansive universe of studio spaces—applauds them with the gold medal in video production. The Cowan Agency's marketing alchemy has not just turned ideas into gold for startups and celebs alike but has conjured up a staggering $100 million in collective value.
Their collaboration roster reads like a who's who of innovation, with partnerships that span from the scent-savvy brains at Koniku Kore® to the game-changing tech of Deepscribe in the healthcare realm.
At the helm is Fern Cowan, the maestro of the agency's symphony, who founded this empire in 2018. Under his direction, they've sprinted to the forefront, catching the eyes of Clutch, Peerspace, and even Forbes, who tip their hats to Fern's entrepreneurial finesse and star-studded collaborations.
From their strategic perch on California Street, The Cowan Agency's influence stretches from the Big Apple to the opulent deserts of Dubai.
Their recipe for success? A dash of unabashed creativity, a spoonful of relentless drive, and a generous portion of good, old-fashioned grit—qualities that Fern Cowan personifies and Forbes recognizes. Their video production isn't just organized; it's a masterpiece in motion, earning standing ovations from clients like CHTA Ventures and culinary stars such as Emmy® Nominated Chef Marcela Valladolid.
San Francisco Corporate Video Production
In the golden light of San Francisco's creative dawn, OpenLight Films stands as a paragon of cinematic craftsmanship. This full-service video emporium weaves over two decades of industry savoir-faire into a rich tapestry of professional storytelling. Renowned for their impeccable professionalism, boundless creativity, and steadfast reliability, they've become the go-to maestros for the Bay Area's most discerning businesses and high-fliers.
Their cinematic menu offers a smorgasbord of bespoke visual delights—from the corporate anthems and brand epics to the sizzle that makes reels pop. OpenLight Films is more than a production company; it's a creative concierge, shepherding clients through a journey of goal-setting, meticulous planning, and crystal-clear pricing. This symphony of collaboration harmonizes the client's vision with OpenLight's virtuosity, all tuned to the frequency of the client's fiscal score.
With a scrupulous eye for detail, every narrative OpenLight Films crafts is a punctual masterpiece, meeting the loftiest peaks of excellence. They've harnessed the digital age, curating an online platform for post-production critique, ensuring every piece of client feedback is the brushstroke that turns a canvas into a masterpiece.
Their quiver is full of diverse storytelling arrows—event videography that captures the moment, lifestyle photography that breathes life, and promotional videos that dazzle and drive ROI. OpenLight Films is an alchemist, transmuting stories into visual gold.
In these times of heightened awareness, OpenLight Films stands vigilant, their commitment to COVID safety turning sets into sanctuaries of health. Their work speaks for itself, echoing through the halls of industry giants like Chase Bank, echoing off the walls of innovation at Google, casting a spotlight on the smooth contours of Galderma's narratives, and capturing the athletic poetry of NBA legend Stephen Curry.
OpenLight Films doesn't just call San Francisco home; their creative spirit is passport-ready, willing to traverse continents to bring their client's stories to life. For those in quest of a video production company that marries the art of storytelling with the precision of technology, OpenLight Films is the beacon that shines bright in the realm of visual alchemy.
San Francisco video production, filming a promotional video
IT STARTS! Media is a full-service video production company based in the San Francisco Bay Area that specializes in creating high-quality corporate videos. With nearly a decade of experience, they offer a wide range of services tailored to meet the specific needs of each client. Their expertise extends to various types of video content, including Company Story Videos, Product Videos, Commercial Videos, Social Media Content, Event Videos, Recruitment Videos, YouTube Ads, Promo Videos, Testimonial Videos, and Music Videos.
The company serves a diverse clientele, ranging from small businesses to large corporations across different cities like San Jose, Oakland, Fremont, Santa Rosa, Hayward, Sunnyvale, Concord, Vallejo, and Berkeley. They pride themselves on their ability to understand and capture a company's narrative, reflecting the brand's vision and mission through their creative storytelling and video production techniques.
IT STARTS! Media highlights their professional approach, emphasizing their high-quality outputs that can fit any budget. They possess a strong understanding of web design which complements their video production services, aiming to help businesses achieve their marketing goals.
Their production process encompasses pre-production, including creative concept development, storyboarding, and location scouting; production, with their professional setup; and post-production, which involves editing, color correction, and sound editing to enhance the final video quality. The company's reviews point to a high level of satisfaction among their clients, noting their professionalism, creativity, and effective communication.
For those interested in working with IT STARTS! Media, the company suggests getting in touch to discuss project specifics, including pricing and potential discounts for non-profit organizations. They are dedicated to inspiring and engaging audiences through their event production services and are committed to the success of their clients' projects.
BX Films is a San Francisco corporate video production company that specializes in creating videos designed to tell pioneering stories. They cater to a variety of clients, including emerging tech companies and outdoor brands, with a focus on helping brands and organizations make a significant impact in their respective fields. BX Films prides itself on being a nimble company that works closely with clients from the initial concept to the final consumer stage.
The company offers a range of video production services, such as product videos that aim to be as compelling and transformative as the products themselves, brand videos that convey a company's unique vision, and partnerships with agencies to enhance their video production capabilities. Their portfolio includes work for significant names, and they have been praised for their creativity and collaborative approach.
Furthermore, BX Films is committed to adding value to the Bay Area through inspired video production, indicating a local focus and an understanding of the local market. They also share insights and knowledge through blog posts on various topics related to video production and marketing. BX Films invites potential clients to connect and get a free quote, suggesting a willingness to engage and understand specific needs, and emphasizes their role as a like-minded partner in shaping the future.
In the digital heartbeat of San Francisco, Luma Creative stands as a vanguard in the corporate and commercial video production landscape. This studio is a maestro of the visual arts, deftly orchestrating video content that doesn't just speak to audiences but sings to them, enhancing the chorus of modern marketing strategies. Recognizing the omnipresence of video in the digital domain, Luma Creative hones in on core messages, transforming them into visual feasts that captivate and convert.
From the first spark of inspiration in creative development to the meticulous crafting of scripts, and the visionary strokes of storyboarding, Luma Creative is there. They are the sculptors of pre-production, meticulously chiseling out the perfect cast, scouting locations that tell stories, and designing sets that become worlds unto themselves.
When the lights go up, their production phase is a ballet of technical prowess, with directors, camera maestros, and a dedicated crew all syncing in harmony to capture the narrative essence. And as the curtain falls, the post-production wizards at Luma Creative elevate the footage through editing wizardry, symphonic audio mixing, and a palette of color correction and effects that bring the story to life.
But their narrative doesn't end there. Luma Creative extends its narrative prowess into the realm of marketing, ensuring that each video not only dazzles but also delivers, optimizing content for the digital stage and strategizing media placements that cut through the noise.
Each project is a bespoke suit, tailored to the contours of the client's needs, budget, and aspirations. They cater to a diverse gallery of video genres, from the corporate crescendos of marketing videos to the intimate whispers of client testimonials.
Luma Creative is not just about crafting videos; it's about streamlining the process to be as swift as it is effective, ready to deploy its talents at a moment's notice, anywhere across the globe. Their portfolio is a testament to their prowess, a collection that showcases the power of impactful videos, whether it's for the high-octane rush of a commercial, the unity of internal communications, or the shared experience of live-streamed events.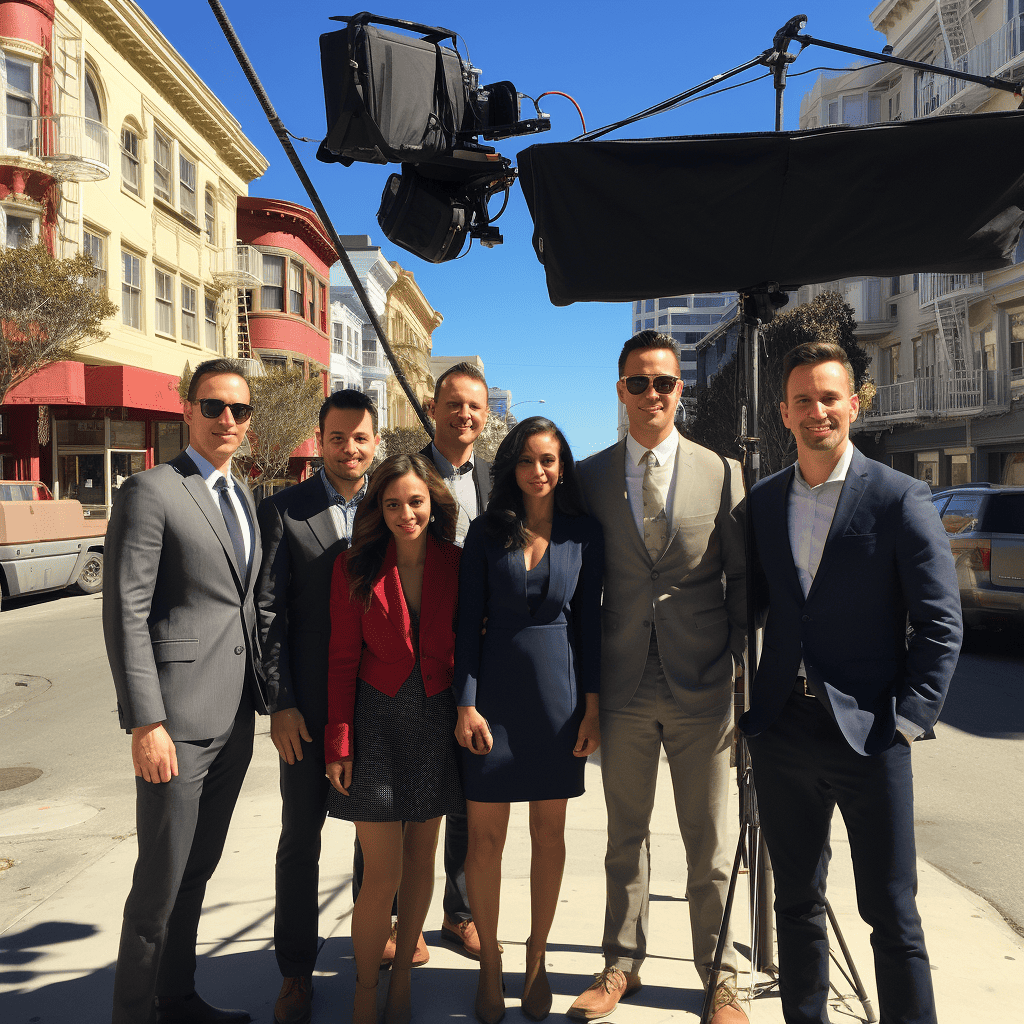 San Francisco Corporate Video Production Team
Conclusion
As the final credits roll against the backdrop of San Francisco's eclectic skyline, our tour of the city's video production elite reaches its zenith. The Cowan Agency, with its flair for weaving corporate stories into compelling content, OpenLight Films, with their lens always focused on innovation and impact, and not to forget our very own IT STARTS! media, where every frame is a testament to our passion for narrative excellence.
Then there's BX Films, with their cinematic brushstrokes that turn corporate messages into visual poetry, and Luma Creative, lighting up the path for brands with their visionary storytelling. Each, in their own right, stands as a pillar of the San Francisco video production community, painting the canvas of digital media with bold colors and unforgettable narratives.
From the entrepreneurial spirit of Silicon Valley to the historic streets of the Financial District, these companies craft videos that do more than just convey a message—they ignite emotions and spark actions. They have mastered the alchemy of transforming corporate video production into a symphony of visuals and sound, strategy and creativity, purpose and passion.
In the city renowned for its Golden Gate, the real treasure lies in the tales told by these visual narrators. They are the sculptors of perception, the architects of engagement, and the modern-day goldsmiths of the corporate video realm. As IT STARTS! media, we take pride in standing among these giants, committed to pushing the boundaries of what video can achieve for businesses, brands, and beyond.
So, as we conclude this cinematic sojourn, remember that in San Francisco, the story is just beginning. With these five beacons of video production excellence, your brand's narrative has the power to not only reach heights but to soar among the stars of industry and innovation. Lights, camera, San Francisco—the stage is set, and the best is yet to come.
Join our newsletter
Get video tips and tricks right in your inbox!